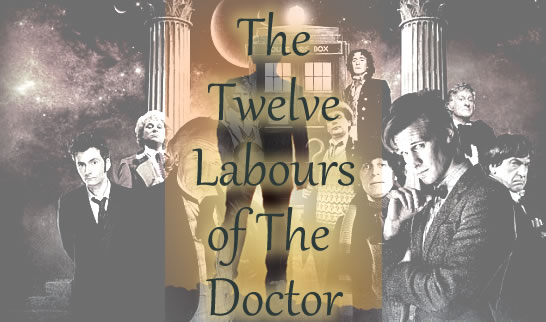 NEW - sponsor a page - get your name into Twelve Labours

If Sponsorship isn't for you, send a donation, as little or as much as you can manage. I really could use the help towards paying for the webspace and domain names annually. £180 needed every January.
HTML
WORD

The Doctor has regenerated but he wants to go back to his eleventh life. When he is offered a way to do that, of course he accepts the challenge.

Posted, September 7th, 2013


chapter One - Princess Pet & Her Spirit Guardian

The Doctor begins his quest in the court of Temur Khan where he meets a princess.

Posted, September 7th, 2013


Chapter Two - Calibi-Yau Space

The Doctor's Second Quest takes him to a world that shoudn't exist

Posted, September 14th, 2013


Chapter Three - Metebelis Revisited

The Doctor's third quest brings him to the blue planet.

Posted, September 21st, 2013


The Doctor has to find an ancient artefact of Gallifrey.

Posted, September 28th, 2013

Chapter Five - Return to Cranleigh Hall

The Doctor gets involved with a treasure hunt in the secret passages of the old Hall.

Posted, October 5th, 2013

Chapter Six - The Great Seal of Krontep

The Doctor has a solemn duty to perform for his old friends Ycarnos and Peri

Posted, October 12th, 2013


Chapter Seven - The Treasure of Svartos

The Doctor meets the last of an old race deep within the iceworld.

Posted, October 19th, 2013

Chapter Eight - The Keeper of The Labyrinth

The Doctor comes up against an old enemy in the most unlikely place.

Posted, October 26th, 2013


Chapter Nine - The Children of Cheem

The nursery on the tree planet is under threat

Posted, November 2nd, 2013


Chapter Ten - The Duke of Manhattan's Coronet

An old friend assists the Doctor to solve a murder mystery

Posted, November 9th, 2013


Liz 10 needs The Doctor's help and he needs a favour from her.

Posted, November 16th, 2013

The Doctor faces his personal fears in the Guardian's last test.

Posted, November 23rd, 2013
Our Spin off Series, Theta Sigma

torchwood

Theta Sigma Has its own Spin off.

The Original
Unfinished Business




new Lords of Time

And what about Ten?




Eleven

The Paternoster Row Adventures

Twelve

Sarah Jane Adventures

The Twelve Labours of The Doctor

Eight Doctors




Thirteen
About Criticism
Constructive criticism is always welcome, of course. So is praise if you think I deserve it. Feel free to email me, or post a message below. But I'm not at home to abuse. If you hate the very concept of Doctor Who, then pass this site by and leave it alone. It is none of your business. If you think the stories should be more x-rated, pass on by. We're not going there. If you just feel like being rude, then go play elsewhere. Do I have to spell it out? I think not.