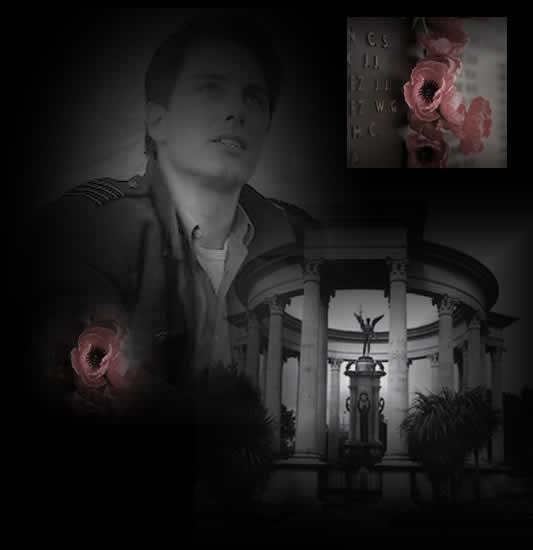 It was raining hard, a bitter, cold rain. So the effort Jack Harkness had taken with his neatly pressed RAF Group Captain's uniform was unnoticed as he buttoned his greatcoat up to the neck. Garrett Dunne walked beside him in a smartly pressed suit similarly hidden under a dark blue gabardine coat. They walked side by side to where the parade was forming up outside Cathays Park.
It was a little after half past ten on a grey November morning, but there was an unaccustomed splash of colour in the uniforms of the serving soldiers and the berets and medal ribbons of veterans getting ready for the Remembrance Day Service. There was a pipe and drum band getting ready to lead the parade. Young people were represented by scouts and girl guides as well as army and air force cadets. Some of them were a little undisciplined, Jack thought. But they were young, and even in their uniforms it wasn't easy for them to understand the full meaning of this day and this ceremony.
On days like this, Jack felt anything but young. Despite his face, he was older than the oldest veterans sitting in their wheelchairs in their regimental blazers and caps with their medals shining on their chests.
He had medals, too. But he didn't wear them. Neither did Garrett. But they were both war veterans and they belonged here on this day.
The band struck up a march and the parade began to move. Jack and Garrett waited until the ranks of uniformed men and women in their regimental lines had set off and then slipped quietly into the group of veterans and their relatives bringing up the rear.
Jack was surprised when two more people he knew fell in step beside them. Alun and Ianto were in civilian suits covered by raincoats. Alun still had his lieutenant's uniform, but he rarely wore it. His military career had not been a happy time of his life and he didn't especially identify with his former regiment. But he was a soldier at heart and he came this morning to pay his respects to fallen comrades.
Ianto had never been a soldier and was the last person Jack could imagine becoming one. But he stood by Alun on this day.
Jack was glad to see them both. The four of them walked in step among men who were, by and large, much older than them, but with whom they had much in common.
The parade finished at the beautiful Welsh National War Memorial in the middle of Alexandra Gardens in Cathays Park. The representatives of Welsh regiments in all three services took up their pre-arranged positions. Civilian spectators were behind crash barriers clutching their booklets with the order of service. The Mayor of Cardiff and his wife as well as the representatives of the Welsh Assembly, hunkered under black umbrellas, stood slightly apart from the veterans. The First Minister himself was in London, at the Whitehall cenotaph, but the Deputy Minister was there in his stead along with a cross-section of the elected representatives.
The Service of Remembrance began with the familiar form of words. Jack tried to remember the first time he had heard them. It must have been in the mid 1920s. Services like this began to take place in 1919, right after what they then called the 'Great War' but it had taken him a little while before he felt able to take part in them. The war of 1914-1918 had been a hard time for him. He had died more than a hundred times in that period, in extremely painful ways. He remembered being blown apart by artillery, buried alive in collapsing trenches, ripped apart by bullets as thousands of men went 'over the top' in the face of enemy machine guns. He had been executed twice - once by the enemy, caught spying behind their lines, and once by the British who mistook him for an enemy spy.
But it wasn't his own deaths that had made services of remembrance difficult for him in the immediate aftermath of the war. By 1914 he was used to that, anyway. He had never deliberately walked into those fatal situations, but he didn't fear death the way other men did. He just hated it. Dying was an awful experience no matter how it happened. Coming back to life again was almost as bad. But he didn't fear it.
It was all those other deaths that haunted him. He remembered waking once in a charnel house – literally a place of death. The nuns from a convent near the muddy French field where they had died had gathered the bodies into the cool, quiet crypt beneath their chapel. They had prayed for the dead and left them in peace. Jack had sat up carefully, making sure none of the nuns were around to see him. In a uniform that was reduced to rags by the explosion that killed him this time he walked between lines of broken bodies. He pulled back some of the crisp linen cloths the nuns had reverently covered them with and recognised some of the faces – those it was possible to recognise. Some were just too badly damaged for that. But he knew enough of them to realise that a whole company of men had been wiped out in seconds - friends he had laughed and joked with, shared cigarettes and sung songs with the night before the 'big push'. And now they were all dead. And as far as anyone would know, so was he.
That wasn't the first time. It wasn't the last. He lost count of the friends he made who didn't make it through that war. Yet he never stopped making friends with them. He never held back from those songs and card games and the comradeship of the trenches. Without friendship it was just mud and blood and carnage and he would never have got through it.
The war ended. The side he was on won. So they told him. He went back to Torchwood and noted the gaps in the ranks there. So many men didn't come back. The organisation took a long time to recover. So did he.
And then it all began again. He glanced at the veterans at the memorial today. He was the only one left who remembered the First World War, now. These men were all survivors of the Second, just as he was. He glanced at a group of old men who wore the wings of the Royal Air Force on their blazers and cap badges. He half smiled as he remembered the Battle of Britain. He remembered the adrenaline rush when the squadrons were scrambled. Taking to the air and meeting the enemy on their own terms. Dogfights in the sky. It was a kind of warfare that suited him. He had almost been happy in the midst of it all. There was a kind of exhilaration about it.
But there was also the heartbreaking times when he landed his plane safely back at base and found out just how many of his friends weren't coming back. Some rare times the whole squadron made it back alive. But other times one, two, three planes would be reported missing. Sometimes he heard that the pilots bailed out in time. Too often he knew that a fragile Human being had been ploughed into the ground along with his plane. It had happened to him twice. Coming back from that kind of death was a long, painful process. He didn't like to think about it too often. Mostly he didn't. But on days like this he couldn't help himself.
Somewhere a church bell tolled eleven times, marking the start of the two minutes silence. Jack was surprised to realise only a mere half hour had passed while his thoughts had spanned a century. At the end of the silence, marked only by the still falling rain and the trilling of a mobile phone somewhere that wasn't going to be answered, he watched the old soldiers pull themselves to attention. A bugler began to play the Last Post. He had automatically straightened his own body. Beside him, so did Garrett and Alun. Military discipline was ingrained in them all. So was the lump in their throats as those stirring notes rang out in the rain-soaked air.
Then those words that never failed to raise a tear in his eye.
They shall grow not old,
as we that are left grow old;
age shall not weary them,
nor the years condemn.
Age wearied him on days like this. He looked out of a young face at old men who got frailer and frailer with ever passing years and knew that they had been young with him. He saw young men who were fighting new wars now and knew that in fifty or sixty years time he would still be standing here with the same face while a few of them, the ones who survived, would be the ones getting old and frail and remembering those they lost in the wars they were fighting at the beginning of the twenty-first century. The thought didn't give him much cheer. Living on and watching those faces age and line was not the easy option. For him it was the only option.
At the going down of the sun
and in the morning,
we will remember them.
"We will remember them," he repeated, in chorus with Garrett and Alun, and Ianto by their side, and all of the old soldiers, the young men and women in uniform, the civilians and the government ministers.
But he was the only one who really could do that, and he felt the burden keenly as the Reveille sounded. He, the only man for whom the Last Post and Reveille really did come in that order every time he died and came back to life. He alone really could remember.
"I promise I will," he whispered. "I always will."
Garrett was the only one who heard. He half turned and put his hand on Jack's shoulder as the politicians led the laying of wreaths in front of the memorial. He was one of the few people who really knew what days like this meant to Jack. He understood what it meant for him to stand there in solidarity with those veterans.
Neither of them brought wreathes. They represented two organisations that were fighting every day on invisible and unmarked war fronts and the names of the people they lost along the way were never inscribed on memorials. In a quiet part of Alexander Gardens just beyond the war memorial there was a place where small crosses adorned with poppies could be left in memory of individuals who had made the ultimate sacrifice. Both of them had added to that temporary garden earlier in the day. Garrett had remembered four people he knew who had died in the Defence of the Realm. Jack had written names on something like a dozen crosses. Which wars they fought in, Garrett didn't ask. It was even possible some of the people he wanted to remember hadn't been born yet. Their wars were in the future. He certainly had the impression that Jack could have written a lot more names on little wooden crosses if the Royal British Legion woman selling them hadn't started to look at him strangely.
"Come on," he said to him as the service ended and the politicians were the first to drift away from the scene. "Let's go home."
"In a moment," Jack replied. "Just a moment more."
He looked again at the old soldiers who filed slowly past the wreath covered memorial.
"There's a question all of them ask themselves at times like this," he said. "Why did I live and so many others died? I ask the same question. Why am I alive? Why do I deserve to stand here, year after year, with life and health, watching them fade away?"
"Because you do," Garrett answered him. "You come here every year and you never forget them. And that's all any of us can do."
There were less people there now. Less of them to notice when Garrett slipped his hand into Jack's hand in a way that would have surprised and shocked some of them.
"Let's go home," he repeated. This time Jack nodded and turned and walked with him. Beside them, Alun and Ianto joined hands, too.
And they all went home.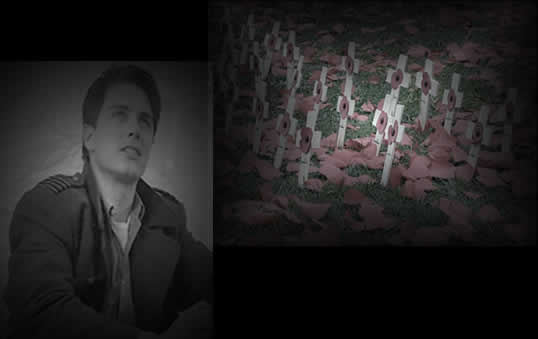 RDWF Supports Help For Heroes