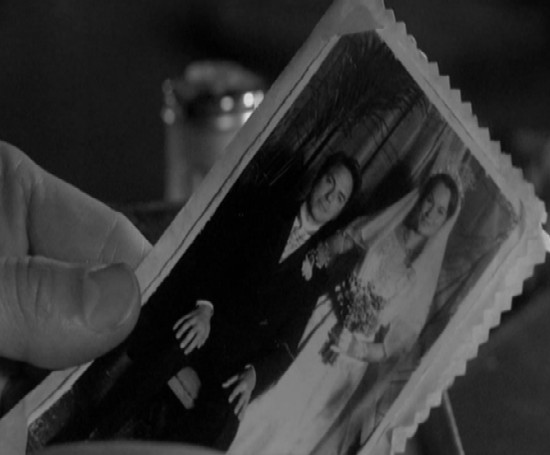 The Best Christmas was, as any Torchwood fan will realise, largely inspired by the scene at the end of Something Borrowed where Jack sits at his desk and goes through a box of old photographic memories, stopping to gaze at a picture of himself and a lady in a wedding dress. Of course, everyone wanted to know who she was and when did Jack get married. The dress and his suit are actually quite hard to pin down without a lot more knowledge of the history of fashion than I have. But I think they're right for an Edwardian middle class wedding, especially one in a restrained, non-conformist chapel which would be perfectly likely in South Wales in that period.
I chose the name Victoria because it sounded like a name for a quiet, modest girl, Vicky as Jack's pet name for her. The scenario of her being a shop girl – in a respectable newsagent/tobacconist is acceptable. That would be upper working class. Jack, with his well paid Torchwood job would seem to be a step up for her. A house of her own, a daily servant, restrained gentility, seemed to fit with that picture of a respectable wedding.
Jack's libido, of course, would be a frightening thing for a girl from such a background. Not that Edwardians were necessarily unaware of sex. It was a time when well meaning upper class philanthropists distributed primitive contraceptives to the poor to encourage them to have less children and when prostitution and pornography were big business. But it was also possible for a chapel going girl like Vicky to be ignorant of all that and blown away by a husband like Jack Harkness.
The mini drama involving Jack and Charles Gaskell, gives the story a bit of action and also introduces a minor character we saw briefly in the Exit Wounds episode of Torchwood. He is a black man in a white world and that is about all we really know about him. So he was a nice blank slate to work on. I may well come back to him another time.

This story is told in flashback to his present day lover, Garrett, of course. Meanwhile, there are brief visits to the rest of the team. Owen and Toshiko spending Christmas together are moving their relationship slowly up a notch. Ianto, Alun and Beth are a nice little triumvirate having their Christmas at the Hub, while Rhys and Gwen are having the 'ordinary' Christmas of dinner with the in laws and the prospect of a peaceful time together. Rhys and Gwen are the token ordinary people of Torchwood, of course.
It's not a high drama story, really. The 'seraphim' visiting Jack and Vicky in 1904, and coming back again in 2009 to Bute Park and a gathering of UFO spotters who are about to get retconned with Ianto's special coffee round it all up. Next year, maybe, we'll have a really dramatic Torchwood Christmas. But this one I decided to make a nice, gentle one.