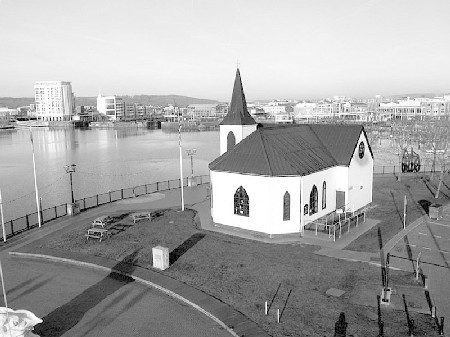 Nathan Edwards is a story about missing children. I always worry about those sort of stories because missing children are always such an emotive issue in the real world. But there is no point in shying away from the subject. Doctor Who, Torchwood and Sarah Jane Adventures have all touched on such a topic. Fear Her, Small Worlds, Warriors of Kudlak and The Lost Boy all had missing children as a central topic. So I am not doing anything outrageously out of step with the 'franchise' in that sense. The episode "adrift" that went on air the same week I posted this story also deals with missing people, adults and children, and in the De-Classified episode for it, the director dealt briefly with the emotiveness of such storylines.
At the start, everyone assumes the worst, of course. Three teenage boys with similar appearance snatched in a few days, suggests a paedophile ring or something of the nature. Jack thinks so, the police think so. Even Michael thinks so, though he can't remember.
When I first introduced Michael as a character, in the story "March 18th, 2008", I always intended to have a story in which we found out his name. I established that he was a young boy living in present day Cardiff, and that his frozen, adult body was still waiting to catch up on his life and return to it. This story reveals who that boy is to some extent.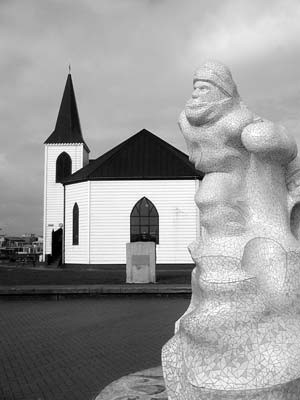 Setting much of Michael and Connie's scenes around the Norwegian Church and the bayfront in that area was, of course, completely blatant Cardiff tourism, and yes, I did get the idea from the scenes with Tosh and Tommy and later, Tosh and Owen in the TV episode "To The Last Man." It is a beautiful setting and the church is one of the few features of modern Cardiff Bay that links to the past since it has been so thoroughly revamped. I didn't know until I looked it up that the church WAS moved from its original position. That meant a very slight rewrite when Michael is talking to Connie about wandering in there and being looked after by the Norwegian sailors until Torchwood came for him. But only a small one. I didn't know it wasn't a church any more, either, but the arts centre and café made an ideal setting.
The alien gismo – inventory no. 30456 was a bit of a deus ex machina, but only a bit. The whole point of Torchwood is to find alien technology and use it. Ianto's name for it, 'Pensieve', borrowed from Harry Potter, was the most convenient way to explain what it does. It doesn't hand out easy answers, for Michael or for Torchwood, but it does give a huge clue.
One criticism which came out after the story was posted initially, was that there was a lack of emotional content in it. After Underground, that was all about emotions, there was very little of it. Even Ianto and Alun, the main romantic, relationship focus of the Torchwood team in these stories, were separated for much of the story, on separate parts of the assignment. The lack of any feeling that Connie and Michael are in love was also questioned. I think initially I took it for granted that they were, based on the previous stories featuring them. But perhaps it needed to be restated that they are two people who have loved each other in very difficult and thoroughly unusual circumstances for many years and that this weekend in the hotel together was about more than just sex. A slight rewrite, I hope, addresses that.
Another revision since the story first went online, is the sequence in which we see Nathan's kidnapping through his eyes, through the memory invoked in Michael by the "pensieve" gadget. Initially this part of the story was far more from the point of view of the Torchwood people watching Michael, with the one agenda of finding a clue in his memories. There was less concern for what those memories consisted of.
That being said, even in a Torchwood story, a thirteen year old boy, sitting in the dark, wondering if he is about to be gang raped by a paedophile ring, is something I didn't want to delve too deeply into. The fine line between emotional investment in the story and voyeurism of a nasty kind could too easily be crossed.
I decided early on that the boys would be held in some kind of industrial estate or retail estate, and then went in search of one. By sheer chance I hit upon the Capital Retail Park, in Leckwith. At this stage, early in 2008, its not actually there, yet. This time next year it is going to be retail park, conference centre, athletics track and brand new, state of the art stadium for Cardiff City soccer club and Cardiff's Rugby League team. JJB Sports are one of the companies who have already finalised deals to have their superstores on the site, but in the nature of such things, it is likely there will be unlet units on the park. It suited my purpose right down to the ground. As long as they actually DO finish it by next year. Last week when Cardiff City were in the FA Cup quarter finals there was a lot of muttering about financial problems. I hope this project isn't one bite too many in a city that seems to be changing and expanding every year.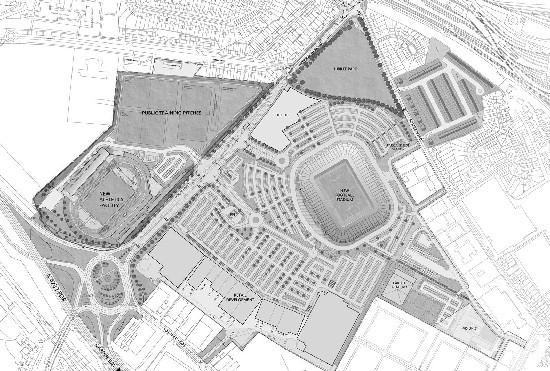 The assumption that the boys were taken by a paedophile ring, of course, throws attention away from it being anything even more sinister. The body in the morgue seems to be a separate case to begin with, until Jack makes the connection. My main worry was that the jump from a detective story with extra technology into something to do with aliens and a weird idea about planting 'living hearts' into new hosts every 60 years would seem forced. I think I got away with it, just. The really difficult bit is the huge piece of exposition when Jack tells us what the altar says this is all about. But I really can't work out any other way of telling that part.
Anyway, of course they save the day. The children are safe. Michael still doesn't remember anything much, but they know that his life and that of Nathan Edwards will come together one day. But that's for the future.