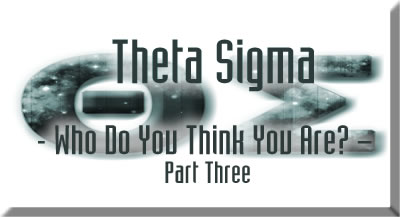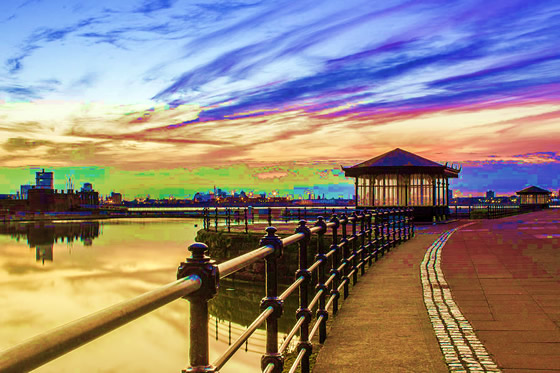 Chrístõ sat on the comfortable sofa in front of a wide viewscreen in his father's TARDIS. He watched the vortex swirl around hypnotically while he sipped coffee and ate toasted cúl nut breadcakes. Despite eating a nourishing meal on Beta Delta IV before setting out, he still felt hungry. His father said that was an after effect of the Rite of Being and the protein rich breadcakes would help.
Lack of protein in his body was not the only thing that was disturbing him right now, though. He turned and looked at his father at the controls of his TARDIS.
"I know what you're thinking," Lord de Lœngbærrow said as he finished priming the navigation console and came to sit beside his son. "How are we to do this? You know nothing about your mother's ancestry."
"I know something. I know that her mother was called Diane, and she was the only daughter of two honest working class people from Birkenhead who did their best to look after their daughter and granddaughter. I know my grandmother was used by a man called 'Mike' who dumped her when he found out she was pregnant. But there are a lot of men called Mike in Merseyside. I have no way of knowing who he was, even if I ever wanted to know."
"Neither you, nor your mother ever asked me," his father said. "I am a Time Lord. I have a TARDIS at my disposal, and the Celestial Intervention Agency isn't just about assassination. It is immodest of me to say so, but I am quite a skilful detective, too."
"I know that," Chrístõ said. "But… Oh… do you mean… YOU know who he is?"
"Your mother never asked me. Perhaps it never occurred to her that she could. I think she never needed to know. I was, as you know, rather older than her when we met. That made me something of a father figure to her. She had no need to wonder about her biological parent. And you, up until now, have had very little curiosity about your Human ancestry."
"But you did find out about him?" Chrístõ looked at his father and bit his lip thoughtfully. "Why did you do that? It wasn't… because… I mean… We are one of the Twelve Great Houses. Was it about…"
"Do you think I would have let snobbishness about bloodlines come between me and the woman I loved from the first moment I set eyes on her? I looked for him when your mother and I were living in Liverpool, before we were married. I hoped that I could bring them together, since he was her only living blood relative. But…"
"But what?"
"But I found him a very unpleasant man and I didn't think Marion would gain anything from knowing him. So I left it undone."
"He abandoned her mother, and you found him unpleasant when you met him." Chrístõ summed up the situation wryly. "So why would I want to meet this man, now?"
"Because you need to if we are to complete your Rite of Being. Besides, I think it's time I gave him one last chance to redeem himself."
Chrístõ wasn't sure about that. But he had always trusted his father's judgement before. Why shouldn't he now?
The TARDIS materialised in the corridor of what was obviously a private hospital. Chrístõ turned and noted it was pretending to be a linen room, fully assimilating itself into the surroundings. He looked out of a window at a view over the Mersey estuary and noted that the hospital was in New Brighton.
"This way," his father said. He didn't ask how he knew, but he followed him along the corridor to the room his maternal grandfather was in.
It definitely was a private hospital, Chrístõ thought. He had seen NHS hospitals of the early twenty-first century and they were nowhere near as nice or as comfortable as this room. The patient was sitting in a comfortable armchair by the window overlooking that same estuary view. There was an intravenous drip by his side and a heart monitor. The patient looked frail and sick.
"Michael Rimmer…" Chrístõ's father spoke the old man's name without emotion. He looked up slowly with eyes that seemed the most alive part of him.
"Who are you?" he asked. "How did you get in here? I told them I want no visitors. Did my ex-wife send you? I'm calling security."
"No, you're not." Chrístõ was aware of a change in the atmosphere around him. He looked up and noticed that the ceiling fan that kept the air cool and clean had stopped. Outside the window a seagull was frozen in the air, its wings outstretched. His father had stopped time around them. "We're just going to have a little talk. Then we'll be gone. I know you're ill, and I don't want to exacerbate your condition. So please be calm and quiet while I introduce you to your grandson."
"My… what…." Michael Rimmer stared past the older intruder to where Chrístõ stood looking at him with a puzzled expression. "Him? Pasty faced streak of nothing… He's no relation of mine."
"Yes, he is," Chrístõ's father insisted. "He is the son of a fine woman who is the daughter of another good woman who you wronged many years ago. You denied it then, and you denied it again. But you won't deny it this time. I can easily produce irrefutable evidence that this young man's mother was your child. I can place that evidence before you, and I can certainly place it before a lawyer and force you to acknowledge the truth."
"Is that what this is about?" Rimmer demanded. "You're here to claim my money… you're worse than my ex-wife. Another gold digger."
"I have no interest in your money." Lord de Lœngbærrow spoke with all the self-assurance of his aristocratic ancestry. "I am already far richer than you could begin to imagine with your small time business empire. We're not here for that."
"Then what is this about?"
"It is about you, for the once and only time in your life, meeting your grandson and acknowledging him." Lord de Lœngbærrow turned and reached out to his son. He stepped forward hesitantly. "His name is Chrístõ and he is far from a 'pasty-faced streak of nothing'. He is an accomplished and courageous young man and I am proud to call him my son. You, have no right at all to call him anything. You have had no influence on his upbringing. Your connection to him is no more than biological. But nevertheless, biology is important. He is your blood kin. Chrístõ, this is your grandfather. For as much as he is worth."
Chrístõ stepped forward and faced the man who he was told he shared DNA with. He looked for some trace of familiarity in his features. He did have brown eyes like his own, but that meant nothing. He got his eye colour from his father. His mother had grey eyes like her own mother. Perhaps the DNA connection was not especially strong.
"So… what is it that you want?" Rimmer asked.
"I don't want anything," Chrístõ answered. "My father said you should have a last chance. You abandoned my grandmother. You denied responsibility for my mother. I don't need anything from you. I don't want anything from you. But perhaps you need something from me."
"What could I possibly want from you?"
"Compassion?" Chrístõ ventured. He reached out and touched the arm of the man who was biologically related to him. He reached mentally and found the memories of sixty-five years of Human life. He saw a man who had built a successful business from virtually nothing, who lived a comfortable life, surrounded by people he employed to maintain that comfort and women who were attracted to his wealth. But in all of the trappings of wealth he could find no real happiness. Even when he married the woman he had already dismissed as a gold digger he didn't seem to have been especially joyous. She was a 'trophy wife' who looked good at his side.
"You've never really loved anyone, have you?" Chrístõ said to him. "You're a very sad man who has pretended to be happy, surrounding yourself with wealth instead of what really matters. And it didn't have to be that way. Even if you didn't marry Diane, you could have known the joy of fatherhood. You could have known your daughter's love. You could have… I could have known you since my childhood. I might have learnt something from you as I learnt from my other grandfather and from my father. Instead… I am sorry for you. You missed out on so very much."
Michael Rimmer looked up at Chrístõ. He began to pull his arm away, and then, for one brief moment, their eyes met. The old, sick man saw something - Chrístõ wasn't sure what. He was in no way attempting to influence his mind. There would be no point. But somehow there was a connection, a very slight one.
"My grandson?" Rimmer's voice was softer than it was before. "Is it true?"
"Yes, it is," he answered. "It's a shock to me, too. I didn't even know about you until today. And… I can't say I'm all that impressed. But… you ARE my blood kin on my mother's side. And I do acknowledge you."
"I have a grandson." Rimmer said. "What do you do? You work, do you?"
"I'm…" Chrístõ thought of some of the job titles he could lay claim to. Medical student, diplomat, secret agent, crown prince of Adano Ambrado? No, he definitely wasn't going to mention that one. He chose the role he was most proud of, even if it was one that the self made owner of a string of hotels might not rate very highly.
"I'm a teacher," he said. "My mother was a teacher, too, when she was young."
"That's… a good job," Rimmer answered. "I wasn't clever enough… went to the Secondary Modern, learnt to mend cars. Teaching… wasn't the sort of job I could have done. You've done well, boy."
"Thank you," Chrístõ replied, surprised by the most Human admission he had made, yet. "I…"
"I have wasted so many years, haven't I?" he said. And Chrístõ was surprised again to see tears in the old man's eyes. "And it's too late now. I have no time left… to get to know you."
"I can visit you again," Chrístõ assured him. "I will. If… if you want me to. We can talk… there is so much I would like to tell you about. If that is what you really want."
"No," Michael Rimmer said. "I don't have the time. I really don't." He looked around at Chrístõ's father. "You know, don't you? That's why you brought him to me. You know this is my last chance." He turned back and gripped Chrístõ's hands in his own. "I'm dying. My heart could go at any moment."
"Shouldn't you be in bed, then?" Chrístõ said. "You would be better off…"
"I'd rather be here, looking out of the window. It's a fine view. Better than staring at the ceiling and listening to that machine bleeping away, waiting for it to stop bleeping. But I'm not going to last much longer. There's no time. This is all the chance I have to… to look at you, my… my future."
Chrístõ turned and looked at his father pleadingly. He was a Time Lord. He could do something, couldn't he?
"We can't give anyone more time than they are allotted by fate," Lord de Lœngbærrow said. "But there is one thing I can do… for you both."
He touched his son on the forehead. He did the same to Michael Rimmer. Chrístõ gasped. So did the old man, as he felt a new set of memories filling his mind. He knew that they were false memories, but he somehow didn't care as he focussed on images of visiting New Brighton as a boy, walking on the sandless beach with his Human grandfather. When he was a little older, he recalled a day at Aintree for the Grand National, then driving to North Wales to look at a hotel that Michael wanted to buy to add to his franchise, and stopping to watch the sunset on the way home. Later, when he was older, Chrístõ recalled meeting up with his grandfather for a meal in one of his hotels, sitting in the bar talking man to man, over a drink, before going to their table. He remembered talking to his grandfather about his plans for the future, about the girl he loved and wanted to marry, all the things a grandson should share with his grandparent.
And Michael Rimmer had the same memories. He, too, knew it wasn't real. But it was vivid enough for him to believe that it could have been.
"I don't know how you did that, but thank you," he said as Lord de Lœngbærrow broke the connection between them all and stepped back. Chrístõ noticed that the ceiling fan was running again and the seagull had carried on its journey. Michael Rimmer gave a soft sigh. The heart monitor beside him bleeped a little more urgently. Chrístõ looked at it. His medical training told him that the old man's heart was beginning to fail.
"You really should be in bed," he said.
"No, let me stay here. I think it might be very soon, now. Will you stay with me? Your father said you had courage. Do you have enough to wait with an old man to the end?"
"Yes," Chrístõ said. "If I will be allowed."
"I'll leave you in peace," Lord de Lœngbærrow said. "I will inform the nurses at the station out there that it is your wish to be with your grandson, now, and they should not disturb you."
The door opened and closed. Chrístõ sat quietly beside the old man and waited with him for what was inevitable. Neither talked much. There was nothing to say. The fact that he was there was enough.
Afterwards, Chrístõ walked with his father on the promenade beside the estuary. He cried quietly. His father let him. When he was done crying he sighed and looked out across the estuary for a while, then he turned and looked at his father.
"Will… these memories… will they fade?"
"If you want them to," he answered. "But if you would like to keep them… an alternative, the way it might have been if things had happened differently… Hold onto them. I won't think the less of you."
"I'm… glad we came. I needed to understand him. And he… needed to know… before it was too late."
"I was afraid he wasn't going to let go of his own bitterness long enough to acknowledge the truth," his father admitted.
"One thing puzzles me," Chrístõ added. "Well… not exactly puzzles… because I understand about DNA and diversity of life, and he lives in a place where ships have brought immigrants to settle for hundreds of years. But… it never occurred to me… I never imagined… that my Human grandfather… my mother's biological father… was…" He searched for a diplomatic phrase for what he wanted to say. "I didn't think anyone in my ancestry was anything but… white."
Lord de Lœngbærrow nodded. That had surprised him the first time he set eyes on the swarthy complexioned man who was his wife's father.
"He's what used to be called a mulatto in less enlightened times on this planet," his father answered. "One of his parents must have been white and the other black."
"He's a half blood…" Chrístõ laughed ironically. "He and I have more in common than I thought. I wonder if he had as much trouble in school as I did?"
"He was born in 1944. Not the most enlightened time in this country's history. I expect it was considerably worse for him than anything you went through. At least you were the son of a noble house. He grew up in working class Merseyside. I suppose that is what made him so determined to succeed in business. Though it does not excuse his treatment of your grandmother or his cold-hearted behaviour through most of his life."
Chrístõ nodded in understanding. "What now? Where do we go to trace my ancestry further?"
"We go to 1944," Lord de Lœngbærrow answered as he turned back towards the place where they had left the TARDIS.
Chrístõ knew Earth history well enough to know that 1944 was during the conflict known as the Second World War. He was not entirely surprised, therefore, when the TARDIS materialised in the dark small hours of the morning, hovering over a large expanse of water.
"The Atlantic Ocean," Lord de Lœngbærrow said as he opened the door and they both looked out, feeling the cold of a March night. "During the period known as The Battle of The Atlantic."
Chrístõ knew that, too. Below, he could just make out the outline of ships, bearing no riding lights of any kind, moving at something like fifteen knots through the water. An Allied convoy heading for the British Isles under threat of attack from German submarines.
As they watched, there was a loud explosion and one of the shadowy outlines was thrown into bright relief by the fires caused by the torpedo that had hit it. Chrístõ screamed as he felt dozens of sudden, terrible deaths by fire or drowning deep in his soul.
"The HMS Asphodel," he heard his father say. "Torpedoed by submarine U-575 at half past one on the morning of March 9th, 1944. All but five of the crew of ninety seven died."
He said it solemnly and respectfully. He had fought in wars in his youth. He knew the futility and inevitability of death on such a scale. Chrístõ knew it, too.
"Was… this was… something to do with my ancestors. Was… my great-grandfather one of the survivors?"
"No," his father answered. "He was one of the dead."
"Then… why show me this?" Chrístõ asked. "It's not as if… we can't do anything about it. We can't rescue anyone. Why…"
"So that you know that your blood relative was a man who died doing his duty in a rightful cause," his father said. "He was a war hero."
"There's nothing heroic about drowning," Chrístõ answered. "It's just pointless and horrible. I never could understand why people on this planet fought among themselves so often, inflicting so much cruelty on each other." He shook his head sadly and turned away from the door. His father followed him and set a new co-ordinate.
It was still 1944, still spring, though a few weeks further on, Chrístõ noted. It was a sunny day in Liverpool. Chrístõ knew the city in the early twenty-first century, some sixty years in the future. He was less familiar with it now. But he did recognise the Cotton Exchange, the grand 19th century building that, among other business, housed the registry of births, deaths and marriages.
There was a young woman struggling up the steps with a perambulator. Chrístõ noticed that nobody seemed inclined to help, even when she was struggling to push open the heavy door and pull the perambulator through it. He left his father's side and went to hold the door for her.
"Thank you," she said to him. "You're very kind."
"That's all right. Which office are you trying to get to?"
"I need to get a birth certificate for… for my baby," she said. Chrístõ looked into the perambulator and saw a baby that couldn't have been more than a few days old. "My son," she added.
"He's beautiful," Chrístõ said. "The office is on the second floor. I'm going there myself. I'll help you."
He lifted the perambulator up two more marble steps into the main foyer of the building and directed the young woman towards the old fashioned lift. His father stepped into the lift with them before the doors were closed.
"She's a very pretty lady," Chrístõ said telepathically. "Reminds me of my old friend, Cassie. You know, I actually expected it to be Michael's father who was an immigrant who had married a local girl."
"Obviously not," his father replied. "But it clears up that little mystery."
"Makes me wonder, though," Chrístõ said. "What would have happened on Gallifrey if the genes had somehow jumped a generation and I was born with her skin colour?"
"Even more gossip than there was about you being born in the first place. But who knows? Those genes might manifest themselves anyway. Perhaps one of your future regenerations will surprise everyone."
"Including me," Chrístõ noted wryly.
The lift reached the second floor and Chrístõ again helped the young woman with her perambulator. He walked with her to the registry office where she joined a queue to be seen by the clerk at the desk. When she got there she stated her business but found it was harder to get the certificate than she expected. Chrístõ drew closer and listened to what was being said.
"If you can't produce your marriage lines and your 'husband' isn't with you then the birth will be registered as illegitimate," the clerk said in a barely civil tone.
"My husband is dead," the young woman said. "And we were bombed out last year. Our marriage certificate, and everything else, was burnt. I can't… but I don't want my baby registered as illegitimate. You must put his father's name down."
"There's no 'must' about it," the clerk replied. "The rules are clear."
"Please," she begged, tears pricking her eyes. "He isn't illegitimate. His father and I were married legally and decently. I won't have anyone slandering his name. And my baby won't be called a…"
"Your baby will be called plenty of things," the clerk said with a nasty sneer. "What difference will it make?"
Chrístõ's anger rose and he stepped forward to give the clerk a piece of his mind. But he felt his father's hand on his shoulder as he pressed past him and stood above the clerk, staring down at him with all the force of his mighty Time Lord being.
"This good woman's late husband is a war hero who drowned at sea doing his duty for King and Country. You will give her the full and complete document she asked for or I will ensure that the Military Service Board know that you avoided conscription by faking a severe medical condition. Shame on you."
Chrístõ noticed two tall, broad-shouldered men in sailor's uniforms move closer as his father spoke. Other men in the queue murmured angrily. The clerk looked worried. He quickly filled in the form to register the birth of Michael Ian Rimmer on April 23rd, 1944 to Leading Seaman Ian Rimmer, deceased, and Elizabeth Rimmer, his spouse. Elizabeth took the certificate and carefully folded it twice before putting it into her handbag. Then she turned away, pushing the perambulator where baby Michael had slept through the whole crisis. The clerk looked at the angry faces in the queue in front of him and ran into the back room behind the counter. Presently another man came out and replaced him.
"Thank you," Elizabeth Rimmer said to the two men who walked with her back out into the spring sunshine. "I don't know how you knew… about my husband, or about that horrible man faking his own medical discharge. But I am very grateful. It's bad enough what people think of me, living here. I didn't want my son to be called a… a…"
"You'll be all right, Mrs Rimmer," Lord de Lœngbærrow said. "So will your boy. Good luck to you both."
He shook hands with her. So did Chrístõ. As they did so, both had a flash of her future timeline. It was not an easy life. She had to find work while her late husband's mother looked after the baby. Racial prejudices made that much harder for her than it needed to be. Making ends meet was never easy. But she managed to bring up her son as best she could.
"He wasn't so bad after all," Chrístõ noted. "His first hotel… was a place she used to clean. He gave her the best suite as her own apartment and had staff clean and cook and wait on her instead. She died in her sixties, quietly in her bed."
"She died of a weakness of the heart," his father noted. "So did her son, as we saw. So did your poor mother. It must have been an inherited problem. Thankfully you did not continue that sad trend. Both your hearts are strong."
Lord de Lœngbærrow smiled warmly at his son and then told him it was time to go.
"Another war," Chrístõ said as he looked at the uniforms he and his father were wearing. "I appear to be a Staff Sergeant in the Royal Army Medical Corps. And you…" He grinned. "You appear to be a Captain. You're doing yourself down a little. I always imagined you as a colonel at least."
"A colonel wouldn't be in the front lines," he answered. "Come on, my boy. We're going to war, briefly."
"I've had enough of war, even briefly," Chrístõ pointed out as they stepped out of the TARDIS and noted that it was disguised as the entrance to a bunker in that Earth conflict known as World War One.
"I know," his father told him. "So have I. But at least we're non-combatants here. We're giving aid and succour to the wounded. You know the rules, don't you, son? When you assist with a patient who is close to death…"
"Just as it was at Ligattya," he answered.
"Yes." His father's eyes seemed to look into his own personal past for a moment, then he turned and put his hand on his son's shoulder before the two of them headed down the long, muddy labyrinth of trenches towards the front line. They could hear gunfire ahead. Chrístõ wondered what would happen if either of them were shot here. His father was on his last life, he wasn't old enough to regenerate. He wasn't old enough to do so. Was it really worth it just to complete his Rite of Being?
They walked nearly a mile, backwards and forwards along those trenches before they reached the combat zone. As they did so, Chrístõ noticed his father look at his watch and nod as if he understood something Chrístõ hadn't figured out yet. Then there was a sound of whistles being blown up and down the trench. The sound lasted nearly a minute, and when it stopped there was silence.
Absolute silence for a very brief moment. The guns stopped and men stood in silence at first. Then they began to cheer.
"The war is over?" Chrístõ asked. He thought about what he knew of this history. "The eleventh hour of the eleventh day of the eleventh month. The Armistice."
"Yes. But come on. Somebody is calling for a medic. This way."
They threaded their way through the cheering, happy men, celebrating that they had survived the "war to end all wars". Chrístõ could hear it, too. Somebody was shouting for help. Nobody else had noticed the young soldier who crouched in a damp foxhole cradling another man in his arms.
"Two minutes," the soldier managed to say. "Two minutes to eleven. They told us the ceasefire would be at eleven. But we had to keep fighting until then… and the Hun kept shooting back… two minutes to the end and he…"
"It's all right," Chrístõ's father said gently. "We're here now. Let us see how bad it is."
Chrístõ knelt, touching the injured man's fevered brow and drawing off the pain. He had been shot in the neck. Chrístõ put his hand gently over the area. He could sense the bullet still in there, perilously close to the carotid artery.
"I can remove it," he told his father telepathically. "As long as he isn't moved any further. If the artery is severed…"
"Chrístõ… remember… if he is supposed to die… we can't interfere."
"He's not supposed to die," Chrístõ answered. "Look into his timeline. He's… he's the one we came to see. He's my ancestor. And he's not meant to die yet. I think… I think we were meant to be here… to save him."
"He can't be moved," his father said. "Not even an inch."
He was still being held in the arms of the other soldier, who looked at them both pleadingly.
"What's your name?" Chrístõ's father asked him. "What's his name?"
"I'm Michael Lannigan," the young soldier answered. "He's… Ian Rimmer. We're cousins… we've been together all along. Right from the start. We joined up together in Liverpool… My mam didn't want us to go. She said Irish boys shouldn't fight England's wars. But… but… but we…"
"It doesn't matter," Chrístõ's father told him. "The war is over now. You can go home to your mam and tell her it's all right."
"Not… not if he dies," Michael Lannigan answered. "I can't go home without him."
"You won't," Chrístõ assured him. "I have to operate right now. Father… you know what I need… Two minutes would be enough."
His father nodded. Then time froze around them just as it had done in Michael Rimmer's sick room nearly a century later. Except this time nobody else was excluded from the freeze. Michael Lannigan and the unconscious Ian Rimmer were frozen between heartbeats. The wound was no longer bleeding. The artery Chrístõ was worried about wasn't pulsing with blood pumped through it by the heart. With his sonic screwdriver set to exert a reverse pulse two minutes was long enough to steadily extract the bullet without causing any further damage.
"Got it," he said, putting his hand over the wound. "Let the time freeze go now."
The sounds of celebration around him resumed. Michael Lannigan sobbed. Chrístõ pressed the blood-stained bullet into his hand and then broke open the field medical pack that went with the uniform. He expertly dressed and bandaged the wound. As he did so a stretcher party arrived, finally alerted to the fact that there was an injured man to be rescued amongst the jubilation.
"Go on with him," Chrístõ's father said to Michael Lannigan. "See him safe into the field hospital and then join the rest of your comrades and celebrate the end of the war."
"Thank you," Michael Lannigan managed. "Thank you, sir, thank you, both of you. I… don't even know what you did or… where you came from. But thank you."
"It's time for us to leave." Chrístõ heard his father's voice in his head. He nodded and turned to follow him back to where they left their TARDIS.
"It was all so futile." He said. "These men… they think they've won the ultimate war. But that man whose life I saved… he'll live to see his son drown in a ship torpedoed by the same enemy he has just fought."
"Yes, I know. I'm sorry about that. But at least he'll live to see his son grow up. And the birth of his grandson, too. I saw all of that in his timeline. Despite that tragedy ahead of him, he will live a good life. The rest, none of us can do anything about. You and I couldn't, even if we wanted to."
That much was certainly true. Chrístõ followed his father into the TARDIS and they left the trenches of the war behind as they stepped back in time once more.
"Liverpool again," Chrístõ noted when they materialised again. He looked at the temporal clock. "1891. Private Rimmer only looked about twenty in 1918, so we must be seeking out his father before he was married."
"We are," his father said. "And this time, in fact, there is something we need to do. I'm seeing a huge causality flux surrounding Michael Joseph Rimmer."
Chrístõ was about to head for the TARDIS door. Instead he drew towards the console where his father was looking at facsimile copies of two newspapers. They were almost identical copies of the Liverpool Echo, the evening paper of August 15th, 1891. Chrístõ glanced up at the temporal clock again and noted that it was near midnight on August 14th of that same year.
The newspaper article was about a murder that took place just after midnight on August 15th, in Pudsey Street, Liverpool. During a scuffle between drunken brawlers, a man, Daniel Wilson, had been knifed to death by one Michael Joseph Rimmer, aged eighteen, of Lambert Street.
"My…. ancestor…. was a murderer?" Chrístõ looked and sounded appalled. "But…"
"Well," his father answered him with the full force of his experience as Magister of the Southern Continent. "In my experience, pub brawls are not pre-meditated. Without knowing the full facts of the matter, I would be inclined to think it was manslaughter, in the heat of the moment. Unfortunately, in these rather severe times…"
He showed Chrístõ a facsimile of the Liverpool Daily Post, the morning edition that was sister paper to the Echo. It was dated two weeks later and dealt with the trial of Michael Joseph Rimmer, found guilty of murder and sentenced to death.
"But…" Chrístõ looked at his father. "This is ten years before Ian Rimmer was born… the man whose life I saved in 1918. How…"
"Causal anomaly. Right now there are two possible futures. Look at this paper."
Chrístõ looked at another facsimile of the Liverpool Echo of August 15th. Everything was the same about the page; the adverts, the other news stories. The only thing that was different was the report about the death of Daniel Wilson in a drunken brawl outside the Eagle in Pudsey Street. Instead of the arrest of Michael Joseph Rimmer, there was a sensational story about a man who knocked down four policemen before being arrested. He was taken to the police station from where he mysteriously escaped a few hours later. Below the article was an artist's drawing of the escaped prisoner.
"What!" Chrístõ exclaimed in surprise as he saw the surprisingly detailed line drawing of his own features. "But… how…"
"That's what I mean by causality," his father told him. "In the next half hour, history could turn either of two directions. In one, Michael Joseph Rimmer hangs for murder and his son, Ian, is never born, never goes to war alongside his cousin, Michael Lannigan. His son isn't drowned in the Atlantic during World War Two after fathering baby Michael by that charming young lady we met in the Cotton Exchange. And he, in turn, doesn't misuse Diane Horsely, mother of Marion… who in turn became my wife and your mother."
Chrístõ looked at his father and felt rather stupid. The word 'but' was forming on his lips before he decided it would only make him look and sound stupid as well as feeling it.
"You know what this means, don't you, son?"
"It means… I have to be arrested for murder. Do… I have to commit the murder?"
"That I'm not sure. But… if it's what it takes for history to take the turn we know it should take… Daniel Wilson dies either way. Your conscience need not be troubled by the action."
"Father…" Chrístõ's voice had a hard edge. "That… sounds more like the Executioner than… than the man my mother loved and I grew up wishing to emulate. Are our moral values so different after all?"
"My moral values are the same as yours. Life is to be valued. But if we don't act, then it's your life that hangs in the balance. If the other timeline becomes the true one…"
"Then I won't exist." Chrístõ understood clearly now. Either he was prepared to commit murder or his life would unravel and he would never have been.
"Time is pressing," his father said. "We should change into suitable clothes to blend in…"
A few minutes later two men in nondescript working men's clothes stepped out of what might have been a side door to the public house called the Eagle if it had existed a few minutes before. They looked towards the bar door and decided against going inside. There was a fight going on. Raised voices and the sound of glass breaking spelt pub brawl in any language. Chrístõ felt his father's hand on his shoulder and they withdrew into an alleyway by the side of the building.
They didn't have long to wait, in any case, before the pub brawl became a street brawl. They saw and heard what was happening. The row was between three young men with Irish accents who were objecting to being called 'Paddies' and much worse by four men with local accents who accused them of taking the work, the homes and the women away from honest Englishmen. It was an old and flawed argument even in 1891. But it was one that, when it was argued between men who had drunk too much and allowed themselves to get angry, led inevitably to trouble.
Chrístõ saw what happened clearly. It was the local man, the one later identified as Daniel Wilson, who pulled the knife and confronted the three Irishmen. Two drew back. The third tried to tackle him. He knew it had to be his ancestor. And he guessed what was going to happen next.
"No," Chrístõ shouted as he sprang from the shadows and came between the two fighting men. He was aware of his father stepping forward, too, and pulling Michael Joseph Rimmer into the dark alleyway as the fight continued, this time between himself and the drunken, angry man. Rimmer's friends and the friends of the two Englishmen had melted away into the darkness beyond the pool of light provided by the streetlamp on the corner and it was just the two of them, now. Chrístõ tackled Wilson easily, disarming him and bringing him to the ground. But he didn't anticipate Wilson retaliating, or the knife slipping from his grasp as they wrestled on the ground. He heard the sound of metal slicing into flesh and felt warm blood. For a moment he thought it was his own, before Wilson's body went limp.
He struggled to his feet, leaving the dead man on the ground, the knife through his heart. He looked at the blood on his hands and didn't think about the sound of a police whistle or the sound of running feet until they were upon him. He fought instinctively, not wanting to be captured, and managed to knock one of them out. As he was cracked across the back of the head with a heavy police truncheon, he recalled that the newspaper article claimed he knocked four of them down and thought an uncharitable thought about the state of journalism in the 1890s.
He came around with his head aching, lying on the stone flagged floor of a police cell. It was dark. There was a sliver of moonlight coming through the tiny window at the top of the outside wall - enough for him to see the cell. It was just about long enough to accommodate a narrow bunk for sleeping on, a small table and a chair and a tin bucket placed as far away from the other facilities as possible.
Chrístõ sat on the chair and waited. He didn't expect to be here long enough to need the bucket or the bed. Even so, he felt a little grim. It was cold and claustrophobic and he couldn't help remembering past occasions when he had wound up in a cell through no fault of his own. He hated it. He couldn't help worrying just a little about what might happen if his father didn't come and get him. What if he was tried and sentenced to hang? He rubbed the back of his neck and tried not to think of the noose breaking it as he dropped through the trapdoor.
The vision was so haunting his mind he barely noticed the rush of wind and the noise of a TARDIS materialising through the outside wall, blocking off the moonlight. Only when the door opened and a pool of bright light fell upon him did he jump up from the chair and run inside. His father grasped him in his arms as he closed the door and hit the dematerialisation switch.
"I hope you did that right," Chrístõ said. "You don't want to leave a hole in the cell wall. It would make my disappearance a lot less mysterious."
"Sorry I took so long," his father answered. "I wanted to make sure Michael Joseph got home safe first. His poor mother nearly had a fit when she saw he'd been in a fight. I didn't tell her the rest. She'd have expired altogether. And small wonder. I… regret letting you get involved, Chrístõ. Causality was in such a flux while you were fighting that man… it could have been you lying dead on the ground. History might have changed again – to show a mystery man slain and Daniel Wilson hanging for the murder."
"It didn't," Chrístõ answered. "I'm fine. And… so are my ancestors." He stepped back a pace from his father's embrace, though he clung to his arms still. "I… father… I can feel them all… every generation of my Human family. Michael Joseph's parents… they survived the Irish famine of the 1840s, but lost their farm in something called the Land War in the 1870s. They came to Liverpool to make a new life. Before then… two, three generations of the Rimmer family… they were subsistence farmers in Donegal. Before that… the first Irishman to bear the name was John Rimmer, a sailor who settled and married a local girl. Before him…."
"I think you can stop now," his father told him. "If you can see it all so clearly, then you have connected with your mother's patriarchal line fully. Your Rite of Being is complete."
"Yes," he said. His eyes shone with the sense of accomplishment. His head was buzzing with the realisation of who he was and what his place in the universe should be.
"The buzzing might be a slight concussion from the truncheon, still," his father told him with a smile. "Shall we head home to Beta Delta IV, now? You did say something about doing a pile of marking and reading some case notes and… what was it… a Treaty agenda?"
"It seems like a very long time since we talked about all that," Chrístõ admitted. "But… there is just one thing more that I ought to do, first. I think I ought to be there."
His father knew what it was. He nodded and suggested they both again change their clothes to something more appropriate.
It was a sunny day, belying the solemn occasion. Chrístõ felt warm in the black mourning suit as he walked up to the graveside. He was shocked to see how few people had turned up. Michael Rimmer was a rich man. But not in friends, it seemed. There was a small group of people representing his former employees. They had a look of people who were there out of duty rather than any affection for the dead man.
There was a woman in a designer black dress and a hat with a half veil over her eyes. She was very puzzled when, near the end of the short service, the priest looked at Chrístõ and asked him if he wanted to say a few words. Her eyes, even through the veil, burned into him as he stepped forward and dropped a handful of soil over the coffin before turning to the small assembly and speaking with a calm, clear voice.
"I didn't know my grandfather well," he said. "I wish I had. I know he wished he had known me better. I regret that we didn't have more time. But I will treasure the few memories I have of him. May he rest in peace."
That was enough. Even if he had known Michael Rimmer well, if he had loved him as he loved his Gallifreyan grandfather, he didn't think he would have had much more to say to the people who were there to hear it. Everything else he kept in his own hearts.
He bowed his head respectfully. He was aware of the woman in the designer dress watching him intently. The employees from the hotel chain were curious about him, too. But he had nothing more to say to anyone. As soon as the service was over he turned and walked away with his father. They left in the TARDIS.
"He had a will," his father told him as they travelled through the vortex. "The merry widow will do well out of it."
"Let her," Chrístõ said. "I don't care. You didn't bring me to see him so that he could remember me in his will. We did what we had to do. I knew him… before it was too late. I'm glad… glad I had a chance to… forgive him. It was worth it, for that."