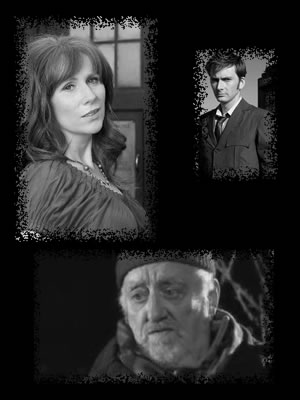 New Year in Chiswick had two purposes. One, to catch up on the story of Wilf and Sylvia – that is Sylvia Mott, former Leading Aircraftwoman Swift, as seen in the story Corporal Mott and the Fascisti.
The other reason, was to do a story that featured Donna's dad and the back story about him. Of course, we all know that the actor who played him in The Runaway Bride, Howard Attfield, died a few weeks into the filming of the 2008 season of Doctor Who. The storylines hinted, without expressing it particularly fully, that her father had died. This story is a bit more explicit about it, suggesting something he might have died of, and that Donna and her mum were there at his bedside and so on.
Yes, of course, companions asking to go back and see their dead dads has been done. But this one was going to be a little bit different. I have no intention of trying to outdo Father's Day. That was perfection. But the basic issue of going back and making up for lost time remains the same.
How unpleasant to make Sylvia Noble, and just what her reaction to The Doctor would be was something I considered for a long while. I could never figure if she is deliberately nasty to Donna or if it's just her way of encouraging her in a strange kind of way. Is there any love there at all from either side? In the end, I decided she would be nice to The Doctor, being impressed by his title and his good manners, but her usual self with Donna.
Which leads to the walk up to the allotment. In the TV series, the shed on Wilf's allotment isn't quite as cosy as depicted here, but that's a minor issue. What I really wanted was for Donna to have her quality time while Wilf and The Doctor have a minor adventure with a falling alien.
Originally, this was going to be a hostile alien, but I decided something that accidentally landed on Earth was better. I also intended to have a bit of a showdown with either U.N.I.T. or Torchwood trampling over the allotments to find the alien, but decided it was better not to get into that.
The flash forward to the following New Year, of course, rounds everything off and brings Donna back to her proper time ready for her next adventures with The Doctor.