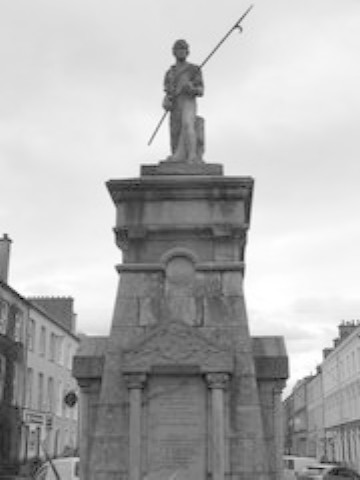 The 1798 Irish rebellion was a military failure that has spawned a lot of very thick books with very small print and not many pictures. Unless you're REALLY interested in Irish history it's not something you want to get into. Suffice to say the British army was regarded as an army of occupation in Ireland and resented by the people.
I am not sure of the story of a group of the Irish rebels who drowned having been betrayed by their comrade is true or not. There are hundreds of such stories along the west coast of Ireland. It may well be apocryphal, or there may be some truth in it.
Killala, on the West Coast of Ireland was in the thick of the rebellion, so if there is any truth in such a story it would have happened there. more than two hundred years later it is a nice Irish town. It isn't QUITE as parochial as I imply in this story, it has to be said. I have taken a few liberties with the facts. But only a little.
Susan Rawlings' family problems have not been mapped out as well as they might be in the course of the stories in which she featured. In the first story, Panem et Circenses, her father worked for the council parks and gardens department and they seemed a typical family unit. Later, Susan reveals that her parents have split up, and much later, mentions that her mum has moved to Ireland with her new boyfriend. There wasn't a lot of detail of how all those developments came about. But perhaps they weren't needed. Suffice to say, Collette and Sean's sea-view cottage provided the setting and the reason for The Doctor and Susan being there.
When I first thought of this idea, it WAS going to be a Theta Sigma story. I envisaged Chrístõ and Julia finding the men on the beach. But having written "Not The Man from Atlantis" in which they find an alien on an Irish beach, it would have seemed repetitive. This worked better, particularly as Sean provided a local 'anchor' explaining the legend of the missing men, and so on.
In 1798, it is true that Irish was the vernacular all along that Irish west coast. Killala IS now just outside the Connaught Gaeltacht. That is what gives The Doctor the clue as to who the men on the beach are, which is confirmed when the deacon shows him the parish register.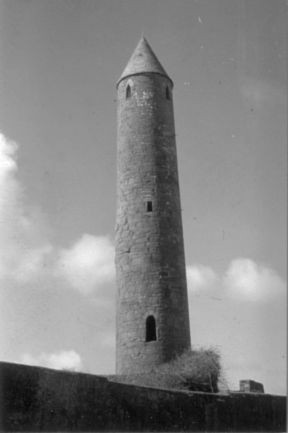 Tá mé ar strae, is part of a phrase I used to have on a sticker on the back of my laptop. "Na lean mé, tá mé ar strae." It was a bumper sticker that translates as 'Don't follow me, I'm lost." I DO know a bit more Irish than that, but that phrase was perfectly useful here.
The priest giving the men spiritual comforts in Latin, of course, was another clue to their historical origins. The Mass and other Catholic rites began to be done in the local vernacular after Vatican II in 1969.
And then U.N.I.T arrived. Now, since U.N.I.T stands for United Nations Intelligence Taskforce, I have always thought that United Nations member countries MUST have their own U.N.I.T. Ireland IS a UN member nation. So the local U.N.I.T arrive to sort out WHY there is an anomalous reading in Kilalla, and get roped in to the plot by The Doctor, if only so that somebody else has to explain why the politicians have still not completely sorted out the problems the 1798 rebels were fighting about.
This story, of course, saw the parting of the ways for The Doctor. Susan and Miche chose to stay. From here he went on alone.
http://en.wikipedia.org/wiki/Irish_Rebellion_of_1798
http://www.mayo-ireland.ie/Mayo/Towns/Killala/Killala.htm