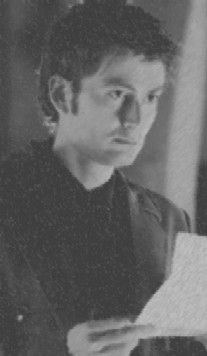 Rite of Progression is a mirror story to Millennium Man, the Unfinished Business story featuring Doctor Number Nine. It was obvious that I needed to do a story in this series that would coincide with it in which Ten, who is the same age as his other self, had to go through the same ritual. In both cases, some creative maths brings them to just short of 1,000 years old and both have a visitation from a dead ancestor to tell them that. Then they have to prepare for the ordeal, which doesn't just mean meditation and purification. It means making sure their companions are safe while it all happens. So Ten goes to SangC'lune where Nine has already gone with Rose, and the two girls have each other's company for as long as it takes.
Ten's ordeal is different. Nine's one had a subplot in which he learns of the possibility that his son may be alive, which is his driving force in subsequent stories. Ten, doesn't follow that path. He is the "Lonely God" not the Patriarch of the new generation of Time Lords as I have made Nine in that set of stories. So the problems he faces are different. Nine meets a monster with lots of tentacles first thing. Ten falls into quicksand and has to continue on covered in freezing mud before he gets his first monster – a Yeti – a traditional Doctor Who monster.
The airlock in the sand was inspired by the ones discovered by The Doctor and companions in the 1965 episode, The Chase, which brought them in contact with the Aridians and THE DALEKS. Here, The Doctor meets first of all a glowing ball of fire. This dates back to the first trailer for the 2005 series which had Christopher Eccleston running down a tunnel to escape such a ball. And then when he has escaped that, a Dalek. The Dalek is followed by the most surreal part, when he is blown up and finds himself physically unharmed while a duplicate of himself is suffering his injuries. This is the longest part of the story in which The Doctor faces up to intense physical pain and proves himself able for it, of course.
Which Earth philosopher was it who noted that if there was a huge bathplug on a chain that would empty out the universe if pulled a HUMAN would be the one to pull it?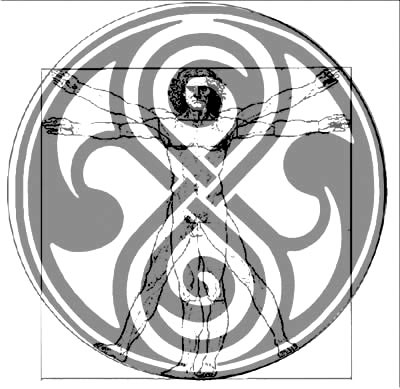 Actually, it was Terry Pratchett. There is a slight nod to Terry in this and the other story. The Plain of Attrition does owe something to the place where the dead at judged in two of his stories, Small Gods and Carpe Jugulum.
The Dylan song about shelter from a storm was the result of a search for a song about storms that Ten could take comfort from. In the mirror story, Nine sang You'll Never Walk Alone, recognising the irony that Christopher Eccleston is a Manchester United fan. The Dylan one fitted beautifully and allowed him a moment of reflection on the women who had sheltered him from time to time, most recently, Rose.
'Twas in another lifetime, one of toil and blood
When blackness was a virtue and the road was full of mud
I came in from the wilderness, a creature void of form.
"Come in," she said,
"I'll give you shelter from the storm."
And if I pass this way again, you can rest assured
I'll always do my best for her, on that I give my word
In a world of steel-eyed death, and men who are fighting to be warm.
"Come in," she said,
"I'll give you shelter from the storm."
Not a word was spoke between us, there was little risk involved
Everything up to that point had been left unresolved.
Try imagining a place where it's always safe and warm.
"Come in," she said,
"I'll give you shelter from the storm."
I was burned out from exhaustion, buried in the hail,
Poisoned in the bushes an' blown out on the trail,
Hunted like a crocodile, ravaged in the corn.
"Come in," she said,
"I'll give you shelter from the storm."
Suddenly I turned around and she was standin' there
With silver bracelets on her wrists and flowers in her hair.
She walked up to me so gracefully and took my crown of thorns.
"Come in," she said,
"I'll give you shelter from the storm."
Now there's a wall between us, somethin' there's been lost
I took too much for granted, got my signals crossed.
Just to think that it all began on a long-forgotten morn.
"Come in," she said,
"I'll give you shelter from the storm."
Well, the deputy walks on hard nails and the preacher rides a mount
But nothing really matters much, it's doom alone that counts
And the one-eyed undertaker, he blows a futile horn.
"Come in," she said,
"I'll give you shelter from the storm."
I've heard newborn babies wailin' like a mournin' dove
And old men with broken teeth stranded without love.
Do I understand your question, man, is it hopeless and forlorn?
"Come in," she said,
"I'll give you shelter from the storm."
In a little hilltop village, they gambled for my clothes
I bargained for salvation an' they gave me a lethal dose.
I offered up my innocence and got repaid with scorn.
"Come in," she said,
"I'll give you shelter from the storm."
Well, I'm livin' in a foreign country but I'm bound to cross the line
Beauty walks a razor's edge, someday I'll make it mine.
If I could only turn back the clock to when God and her were born.
"Come in," she said,
"I'll give you shelter from the storm."

And that brings us to the mental challenge thrown at him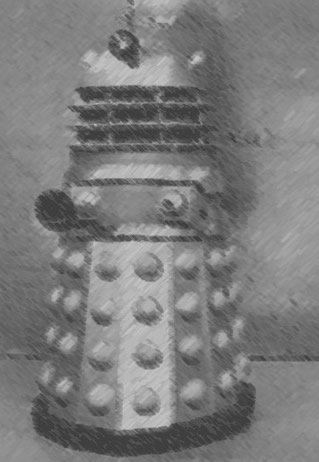 as visions of the past taunted him. Jo, Leela and Rose were the companions who accused him of various wrongs, all of which he denied. The idea if having Rose become a victim of a cyber conversion was, I thought, one of his worst nightmares. The chances of that happening in the four episodes of the 2006 season that involved Cybermen were always enormous. A lot of speculation on the end of the season had suggested that as her fate, with The Doctor having to kill the cyberman she was converted into. Of course Russell T. Davies would never be THAT cruel and neither would I. It WAS just an illusion that he faced, though he DID kill the cyberman without hesitation.
The final test is about sacrifice. Knowing that Nine has more to lose than he has, and having been told that only one of them could pass the test, he is prepared to sacrifice himself for his other self. He rescues Nine from the fire despite being scared of fire all his life. This, incidentally, dates back to the Jon Pertwee era when the Third Doctor admitted to Jo Grant that he WAS afraid of fire. But The Doctor has never shrunk from his fears and Ten does his duty.
But obviously, the sacrifice was not needed. It was a lie to test him. He and Nine both passed and there was a happy reunion. Because obviously I wouldn't be that cruel to either of them.
http://www.pearsecom.co.uk/doctorwho/73milenniumman.htm
http://wiki.lspace.org/wiki/Main_Page