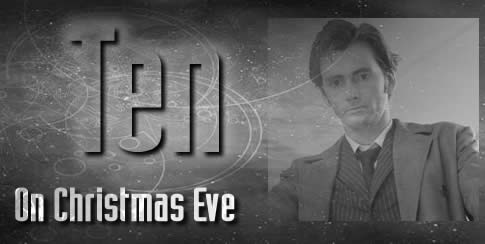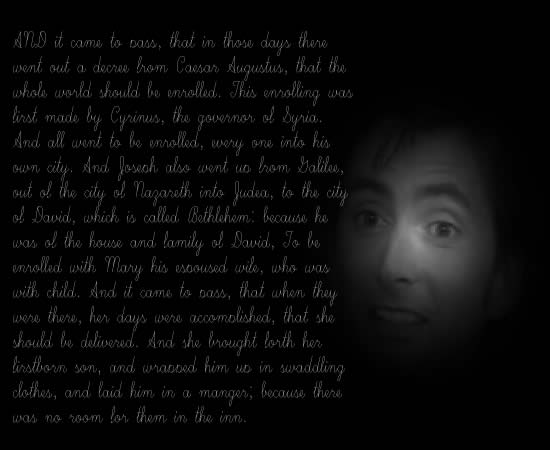 Louise watched as The Doctor basted the huge turkey and covered it in tin foil before placing it in the centre of an already hot oven and closing the door. He turned around smiling as he pulled off the kitchen apron with reindeer running across the front and reached to embrace her.
"Three hours in the oven, with regular basting and that will be cooked to perfection. Our Christmas dinner will be the best ever."
"But, chéri," Louise pointed out. "That bird is enormous. There is just the two of us to eat this Christmas dinner. We cannot possibly…"
The Doctor's smile widened to a grin.
"That's a tradition of Christmas, too. Finding ways of using the leftover turkey. But don't you worry about it, my dear. Christmas is not a time for worrying. It is for rejoicing."
That was the theory, anyway. Some of the more frantic Christmases he had known came to mind but he pushed those memories aside. This one was going to be peaceful and joyful. He was absolutely determined it would be. That was why he had gone to so much effort to rent a cottage in the remote Irish countryside where nothing untoward was likely to happen.
Of course that was no guarantee. Fate had a habit of springing surprises on him. He'd probably get to Midnight Mass in the village and find the priest was a vengeful Slitheen with a zip fastener under his hairline. That sort of thing happened to him all the time.
"Chéri, have you seen the weather?" Louise said, breaking into his reflections about the nature of fate and its particular application to him. "The snow is coming down very fast now."
The Doctor went to the window of the little drawing room and looked out at what was supposed to be a beautiful view over a small lake to a heather-covered moorland beyond. The moorland had a dual carriageway through it about two miles away, spoiling the effect a little bit. But it should have meant that a yellow glow of a string of lights atop their concrete pillars illuminated the otherwise complete dark of rural night.
But the snow was so fast and so thick that he could barely see across the lake. The dual carriageway might as well not be there. He went to the front door and opened it. An icy wind blasted into the warm cottage along with a drift of snow and he fought to close it again.
"I think," he said slowly. "We had better revise our plans for the evening. I don't think we should try to get to the Midnight Mass after all. That little winding road to the village would be a death trap in this weather. And I really DON'T want to use the TARDIS just to go down to the village."
"I don't mind, chéri," Louise told him. "I didn't really understand why we were going anyway. It is not my tradition – nor yours, either."
"I wanted you to understand about Christmas," The Doctor answered. "Your people… on Forêt… you never celebrate any kind of mid-winter festival. In the cold season, you always hunker down in your homes and keep warm, seeing it through until the warmer, softer days. It is a dark, hard time with so little cheer. Even on my own world, the Winter Solstice is a time of celebration. But your people came, originally, from France, and Christmas was always celebrated there, even in the centuries when Humans began setting off to colonise new planets. On almost all the Earth colonies I have ever visited, they keep Christmas in some form. It has always puzzled me that your people lost the tradition."
"I do not know why it is so," his wife answered him in an apologetic tone. "I only know how things are, not how they were."
That was certainly true. Louise came from a society that was based largely on oral traditions. It had no big tomes of history that its children had to learn. Even the long battle with the Daleks was now the stuff of fireside stories and songs. Most Forêteans knew that their ancestors came from a planet called Earth, but they didn't worry too much about where it was or what customs were kept on that planet. They had left it behind and were content to live their lives from one generation to the next in peace.
And there wasn't much wrong with that. But Louise was only part Forêtean. Her father was born on Earth, albeit in the fifty-first century. And The Doctor felt he wanted Louise to know about his homeworld and its traditions, especially one that he had always liked.
"I am sorry, chéri," she added. "For my stupidity."
"Oh, my dear," The Doctor answered. "You are not stupid, not at all. And if I ever make you feel that way… then please tell me so. I never meant to do that to you. Living a simple, uncomplicated life doesn't make you stupid. But… if we're not going to join the local people in their church service, we can spend a little time thinking about the meaning of Christmas here together while the turkey cooks, and at midnight we can open a present each from under the tree and then get to bed a bit earlier than planned. Tomorrow, if the weather is a little better, we can go to the morning church service."
Louise had no objection to that plan. Spending quiet evenings with The Doctor suited her much better, if truth be told, than the nights at the opera or grand balls or any number of fantastic things she had done since stepping aboard the TARDIS with him. She liked to sit quietly with him, listening to music or, even better, listening to him read to her from some book in his library. She liked the sound of his voice. She liked the feel of his arm around her shoulders and the quiet beat of his two hearts next to her. She liked when he put away the book or turned off the music and led her by the hand to their bedroom. Needless to say she was content all night long lying in his arms. And she thought that he, for all his wide knowledge of the wonders of the universe, was happy to lie beside her.
She watched as he poured two glasses of wine and put them beside a selection of cheese and biscuits on a table by the fireplace. A roaring log fire warmed the little house. Louise sat down in front of it on a soft, deep pile rug that felt like the furs she used to sleep in on cold nights on Forêt, but was, according to The Doctor, woven sheep's wool. He went to a shelf beside the chimney breast and took down a book. It wasn't the same kind of book he usually read from. Usually they had brightly illustrated covers and were stories about worlds even more wonderful and fantastic than the ones he had taken her to see, where unlikely heroes battled terrible foes and good always triumphed over evil in the end.
"This book, for many Humans on planet Earth and in their far off colonies, is the ultimate story of good triumphing over evil," he said as he showed her the plain black leather cover with the words 'Holy Bible' embossed in gold lettering. He opened the thin, closely printed pages carefully and found a passage he wanted to read aloud. Louise sipped her wine and listened to the soft voice of the man she loved.
"In those days a decree went out from Caesar Augustus that all the world should be enrolled. This was the first enrolment, when Quirinus was governor of Syria. And all went to be enrolled, each to his own city. And Joseph also went up from Galilee, from the city of Nazareth, to Judea, to the city of David, which is called Bethlehem, because he was of the house and lineage of David, to be enrolled with Mary, his betrothed, who was with child. And while they were there, the time came for her to be delivered. And she gave birth to her first-born son and wrapped him in swaddling cloths, and laid him in a manger, because there was no place for them in the inn. And in that region there were shepherds out in the field, keeping watch over their flock by night. And an angel of the Lord appeared to them, and the glory of the Lord shone around them, and they were filled with fear. And the angel said to them, "Be not afraid; for behold, I bring you good news of a great joy which will come to all the people; for to you is born this day in the city of David a Saviour, who is Christ the Lord. And this will be a sign for you: you will find a babe wrapped in swaddling cloths and lying in a manger." And suddenly there was with the angel a multitude of the heavenly host praising God and saying, "Glory to God in the highest, and on Earth peace among men with whom he is pleased!" When the angels went away from them into heaven, the shepherds said to one another, "Let us go over to Bethlehem and see this thing that has happened, which the Lord has made known to us." And they went with haste, and found Mary and Joseph, and the babe lying in a manger. And when they saw it they made known the saying which had been told them concerning this child; and all who heard it wondered at what the shepherds told them. But Mary kept all these things, pondering them in her heart. And the shepherds returned, glorifying and praising God for all they had heard and seen, as it had been told them."
The Doctor paused as he finished reading and then took a sip of his own wine. He looked at his wife and noticed that she was not looking back at him. Rather, she was looking past him at the nativity scene he had set up earlier in the day when they decorated the room and dressed the Christmas tree. All the decorations and the tree had been bought yesterday in Galway city where The Doctor took Louise Christmas shopping. The Nativity figures were made of good quality bone china and the stable of finely crafted wood. He had set it up with loving care and placed candles around it that he had lit in the evening.
"The gospel doesn't tell half the story," The Doctor said. "Nor does the nativity scene. Neither really tell how terrifying it was for a young woman giving birth in a strange place in days when medicine was rudimentary and childbirth a dangerous thing at the best of times."
Louise said nothing about that. She knew full well how hard childbirth was.
In Galway yesterday, Louise had experienced consumerism for the first time in her life as The Doctor took her Christmas shopping. She had gazed at brightly lit shop fronts with banners proclaiming Christmas bargains. She had been astonished by the range of bright trinkets and trimmings that people bought just to decorate their houses for this festival. But she still didn't have very much idea of the value of money so the cost of everything didn't bother her, and when they split up in one shopping centre in order to buy surprise presents for each other she thought nothing of presenting the credit card The Doctor had given her at the cash tills.
But she was having trouble reconciling that commercial celebration of Christmas with bright lights and food and drink and the exchange of bright gifts with the story The Doctor had just told her and the birth of a baby in just about the humblest circumstances even a girl born in a tree house could imagine.
"Yes, it does seem as if some Humans have lost the original meaning of Christmas," The Doctor admitted. "And I have to admit I enjoy a gaily decorated tree with lots of colourfully wrapped presents under it. But ultimately that's what it was about. A baby being born."
"A baby who was to be a king…but born as a poor child of common parents."
"Yes."
Louise didn't understand. The Doctor smiled.
"It makes perfect sense to Humans. It makes sense to me, because Humans have explained it to me many times. There was oppression and hatred in the world, and people lived in hope of a man who would come and make it all right. They expected a warrior who would sweep away the oppressors at the point of a sword. Instead a baby was born who grew up to be a man who stood before the oppressors unarmed and ready to sacrifice himself for the sake of those who believed in him."
Louise still didn't understand. But that part of the story The Doctor had always fully understood. He, too, stood against the forces of darkness unarmed, and ready, if need be, to lay down his own life. The difference between him and Christ was that his sacrifice was for the sake of the innocent. Christ's sacrifice was for the sake of the guilty.
But that was a theological debate for another night. Meanwhile he stood up and went to the window. There was still a snowstorm going on outside that might, without exaggeration, be called a blizzard. He couldn't see much beyond the little cottage garden. They probably wouldn't be the only people not venturing out on this Christmas Eve. He spared a thought for anyone who was, for whatever reason, not enjoying the warmth and comfort of a loving home as he and Louise were. That dual carriageway he could no longer see must still have travellers upon it, many of them heading for their homes and families, and as a lifelong traveller he wished them a safe journey. There were people, too, in this imperfect world, that had no homes, that would be looking for temporary shelters on this night. There were people whose homes were not warm because of poverty, people whose homes were not loving, because of problems much harder to mend than finding fuel for a fire. In his compassion for all people, wherever they were, and whoever they were, he made a fervent wish, the closest a man with no religion could come to a prayer, that those people might have some comfort in their lives on this night of all nights.
Then he struck a match and lit a large candle firmly set in a fireproof holder on the windowsill. He watched as the warm living flame cast its reflection in the darkened window then he turned and came back to the fireside where he ate some cheese and biscuits and drank his wine.
"What is the candle for?" Louise asked him.
"Old Irish tradition," he answered. "A candle at the window lights the way for travellers on the road. It is believed, at least it used to be, perhaps people are a little more cynical now, that the Holy Family – yes, the ones in the nativity there - travel around the world on Christmas Eve, seeking shelter. And the candle is a sign that they are welcome to rest in the house, and leave their blessing on its occupants when they go."
"You mean… like ghosts…" Louise frowned uncertainly. "The people here would welcome ghosts… spirits… into their homes?"
"Those particular spirits, yes," The Doctor answered.
"Do you believe that story? Do you think it really could happen?"
"I've seen far too much to disbelieve anything," The Doctor replied. "And as a man who has travelled a very long way, for a very long time, I like the idea of symbolically welcoming a weary traveller on a cold night. Whatever I believe in, or don't believe in, I am happy to go along with a tradition like that."
"Then, I am happy, too," Louise answered. "But no more talk of ghosts. On Forêt we do not welcome such things. Especially on cold dark nights such as this."
The Doctor leaned forward and kissed her on the cheek and happily changed the subject. In between regular checks on the turkey in the oven he told her of some of the Christmases he had known as a visitor to planet Earth in many different eras. He recalled his enforced exile in the early 1970s, when he spent several years in the company of Humans and shared their Christmas festivities. He made her laugh with descriptions of U.N.I.T. Christmas parties with the Brigadier in charge, and remembered with fondness one Christmas Eve he spent with Jo Grant. She had been invited to Dorset by an old school friend and he, with nothing else to do, had offered to drive her down there in his vintage car fondly known as Bessie. The weather had rapidly deteriorated that day, too, and they had given up hope of reaching the intended destination. Instead they had stopped at a country pub where they found mulled wine and mince pies being given out to all comers and Christmas carols around the old piano that went on long after Last Orders should have been called. Since the local police sergeant was leading the singing and the magistrate was the pianist, it seemed unlikely that any prosecution would have been forthcoming. Sometime in the early hours he and Jo had gone to the rooms they booked and slept happily, waking the next morning in time to carry on to Dorchester where Jo's friends served them both a fine Christmas dinner.
"Jo… was a lover of yours?" Louise asked. "Long ago in your life?"
"No," The Doctor assured her. "Jo was a lovely young lady who I would have been proud to call my daughter. That's how I thought of her, even though she was only a little younger than you, my dear. My life at that time… I didn't have any need, any desire for a lover. I felt too old for that. But even though I am so much older now, in years, I have found I have a young soul after all. And I have the capacity to love a woman… to love you, Louise, my wife."
He kissed her again, this time long and lingeringly. She let him enfold her in his arms as the clock ticked and the logs crackled in the quiet room. It was almost midnight, now. The Doctor left the fireside one last time to remove the perfectly cooked turkey from the oven and place it on a covered platter ready for the dinner tomorrow. Then he replenished the wine glasses and as the clock struck the hour, he toasted Christmas morning with his sweetheart.
"Merry Christmas, my dear," he said. "Shall we open some of those presents now?"
"Yes," Louise replied, though she didn't seem as gleeful about the idea as he did. The giving and receiving of gifts on a particular day was not a part of her cultural background and she was only vaguely aware of what it was all about. She moved with him towards the Christmas tree and the pile of wrapped presents. Then she gave a startled gasp.
"Docteur! There is somebody outside."
The Doctor looked around, but all he could see was the reflected flicker of the candle in the window.
Then there was a knock at the door.
More of a tap, really, weak and hesitant.
The Doctor was immediately on his guard. It was gone midnight. It was dark and stormy outside. Who could possibly be calling? It was unlikely to be a Christmas reveller. The sixteenth century custom of First Comer had long died out before this century and in any case, nobody was likely to come to such a remote place on such a night.
He put his hand on his sonic screwdriver to make sure he knew where it was before he approached the door carefully, waving to Louise to stay back. Any number of unpleasant possibilities, from house thieves to Sontarans were in his mind as well as ordinary folk with a broken down car or some other sort of emergency. He was ruling out nothing.
He therefore registered no surprise whatsoever when he opened the door and found a young woman wrapped in a coat and hood but half fainting from cold and exhaustion. The Doctor scooped her up in his arms and closed the door in the same movement before turning and bringing her to a chair by the fire.
"Who is she?" Louise asked. "Where did she come from?"
"I don't know," The Doctor answered. "To both questions. Get a glass of brandy from the cabinet, would you. Let me see…"
He peeled off the hood that was almost frozen to the young woman's face and unbuttoned her ankle length woollen coat. Beneath it she was wearing a dark brown blouse and skirt that seemed of a curiously old fashioned style. The Doctor noted that the skirt was worn high over her natural waist because she was something like five or six months pregnant. The Doctor touched her very briefly and was reassured that she was in no danger of giving birth in the immediate future and that the baby was unharmed by whatever experience had brought her to his door in the middle of the night.
"All right," he said as she came around from the near faint. "Just a very little of the brandy, then. Just enough to warm you up." He took the glass from Louise and pressed it to the woman's lips. She managed to sip a little. She coughed as the burning warmth slid down her throat and her eyes watered, but it revived her.
"Thank you, sir," she said. "You are kind. I… just need to rest a while and then I will be on my way. It is only a mile now to the village…"
"You stay right there," The Doctor answered. "And don't even THINK of moving on from here tonight. The village will still be there tomorrow. Is somebody expecting you? I'll phone and let them know you're safe."
"Phone?" The woman looked at him as if she had never heard the word before.
"Never mind. You just sit there. I'll get you something to eat. This is my wife, Louise. She'll sit with you. You can trust her."
He went to the kitchen and cut chunks of a long crusty bread baton and buttered it, then he sliced some meat from the newly cooked turkey and put it on a plate with the bread. He poured milk and three spoons of sugar into a mug and then used the sonic screwdriver to instantly heat it. He brought the food and drink back to the living room. The young woman took the plate and cup and thanked him kindly. The Doctor pulled up a seat and watched her thoughtfully, but he didn't say anything until she had finished eating.
"What's your name?" he asked.
"Máire," she answered. "Máire Ó Corráin."
"Mary Curran," The Doctor said, translating her name to English. "And what brings you out on a cold Christmas night?"
"I was trying to get home," she answered. "I am from Turloughbeg. I have been travelling four days now to get home. I have been in service, in a house in Manchester. I was saving every penny, for when the child is born. But when I got word that Gerald was dead… he's the father of the child, and, oh, sir, don't think bad of me… or him. We meant to be married the next time he had leave… but his mother had a telegram… she told me he was killed in France… And my heart went out of it all. I just wanted to come home to Ireland, to my own mother and father. I know they'll be disappointed in me, but I hope they'll have it in them to forgive me. I managed to get a boat to Dublin, and then the train. I've walked all this day, hoping to reach shelter before dark. But the snow came down so hard and I lost my way. I was born and raised in the townland, but in the dark and snow I didn't know where I was. Then I saw the light in your window, sir, and I hoped…"
"That's quite all right," The Doctor told her gently. "Mary, you're perfectly safe now. No harm will come to you this night. We'll make you up a bed here on the sofa. It's a good big one and you'll be comfortable enough in it. And in the morning…" He paused and seemed to change his mind about what he was going to say. "In the morning, we'll see what the weather's doing and decide what's best."
He helped her to stand up from the chair where she had been sitting. Louise, without having to be asked brought a pillow and blankets from the bedroom and made up a bed on the sofa. The Doctor helped Mary to lie down and tucked the cover around her.
"Sleep now, Mary," he said, putting his hand on her forehead and gently willing her to drop into a peaceful slumber. He kept his hand there for a few seconds more than he needed to and read her thoughts as they became slowly disjointed. Several things that had puzzled him fell into place. He nodded in understanding as he stood back from her.
"Come on to bed," he said to Louise, taking her hand and leading her into the other room. It was warmed by a storage heater and despite the storm outside they were cosy as they undressed and climbed into bed.
"There is something strange about Mary," Louise said as she relaxed into her husband's arms. "The things she said… There was something wrong. Though I don't know what it was… just something not quite right."
"You're right," The Doctor said. "This is the year 2016. I chose that date because I hadn't actually spent Christmas on Earth in that year before. But… Mary was heading for Turloughbeg in 1916, a hundred years before. There was a war going on in Europe. Her boyfriend, the father of her child, was killed in that war. A lot of young men were. It was a very bad time in Earth history. There were a lot of young girls with stories like hers.
"But…" Louise's eyes widened in shock. "But how… how could she be… I touched her. She's real. She's alive. She can't be a… a ghost…"
"She's a temporal anomaly," The Doctor explained. "Somehow, she has slipped from her own time into this one and found her way to us. The candle in the window… a light to welcome travellers. It literally did that. Though poor Mary certainly isn't bearing the Saviour of the World. She's just an unfortunate victim of circumstances."
"But she is real," Louise said again.
"She is very real. Yes."
"Docteur… I am frightened. This is wrong. People can't…."
"Yes, they can. It happens more often than people on this planet think it does. There's a rift in time and space in Cardiff. Unfortunate souls fall through that all the time. Some people I know, Torchwood they're called, spend a lot of time helping the victims cope with the consequences. There must be some kind of minor rift in this area. Unless she's…."
Again he paused. He looked at Louise. No, she wasn't stupid. But she didn't understand about temporal anomalies. And there was no way he could begin to explain his other theory about Mary.
"Louise, don't be frightened. Go to sleep now, and in the morning, everything will be all right. I promise."
He touched her face gently and reached into her mind, easing her anxieties. She looked at him with her gentle almond eyes and he could tell that she knew what he was doing. She didn't resist as he slowly sent her into a gentle sleep with soft, pleasant, untroubled dreams.
He pressed her close and closed his own eyes. He didn't sleep. He had too many things to think about. But he let his eyes rest. He let his body rest. His mind worked through the mystery that had arrived at his door. He had two theories. The first was the one he had tried to explain to his wife. The other was more complicated, more surreal and considerably more likely to frighten Louise. It frightened him a little bit, and he understood the nature of reality better than anyone else on this planet.
In the morning, he would know which of his theories was correct.
The morning was quiet. The blizzard had stopped. Outside was cold, crisp silence. Inside the cottage was quiet, too. The Doctor slipped out of bed and dressed before going to the living room. He came back to the bedroom and woke Louise.
"Mary has gone," he said.
"Gone where?"
"Gone," he repeated.
"Was she ever really here?" Louise asked. Maybe she was a ghost, after all."
"No," The Doctor answered. "It's not as simple as that. I've got an idea, though. I just need to fill in a couple of gaps in the picture. And I think I know where I can do that." He smiled brightly at Louise and kissed her on the cheek. "Merry Christmas, my dear. Today is a beautiful winter's morning, I think we'll have a quiet breakfast and then drive down to the village to the church service, share this Christmas day with the locals."
They did just that. Louise enjoyed the Christmas morning service in the little parish church. The form of the Mass was unfamiliar to her, but the idea of gathering together as a community for Devotions was not new to her, and afterwards she chatted happily with some of the local people who wished her well and hoped she would enjoy the rest of her Christmas visit to rural Galway.
She looked around and found The Doctor in conversation with the Deacon of the church. She came to his side and heard him asking about Parish Records.
"I was hoping to find a trace of a young woman called Máire Ó Corráin," he said. "She lived in these parts in the early twentieth century."
The Deacon looked at The Doctor thoughtfully and seemed to be choosing his answer with care.
"You… know that name? Strangers to our parish have heard of Poor Mary…" He blinked twice and shook his head. "So… she visited you this year?"
"This has happened before?"
The Deacon looked around as the congregation thinned out, going to their homes and their Christmas dinners then drew The Doctor and Louise back into the quiet church.
"Everyone expects her," the Deacon said. "Every year, she finds her way to a house in the townland. Anyone who would refuse her shelter does so at peril of his soul."
"She warms herself by the fire, eats a little food, and in the morning she has gone?"
"Exactly so."
"Tell me about Mary." The Deacon seemed surprised by so direct a question, but something in The Doctor's tone made it difficult to refuse his demand.
"She was born in Turloughbeg in 1896. She was nineteen in 1916, the third winter of the Great War, when she came back from England. It was late on Christmas Eve when she reached the townland and the snow was falling fast. Exhausted and cold, she sought shelter where she could, but found…" The Deacon sighed and shook his head. "This is to our immortal shame… all of us who are descendents of those Turloughbeg parishioners of that time. She was refused. She was an unmarried mother, and, even worse, the father was a British soldier. This has always been a place where political feelings run high, you understand. And that year, if you know our history, you'll understand… But anyway, the door was closed on Mary at every place where she begged for assistance."
"On Christmas Eve…" The Doctor began.
"On Christmas Eve, not even a stable was open to her." Again the Deacon shook his head as the irony of his statement hung in the air in a palpable way. "As I said, it was to our immortal shame."
"She died?" Louise asked. "Without shelter… she must have frozen to death."
"That's the strange part. If she did, her body was never found. In the morning, one man who had refused her shelter had second thoughts, and realising the terrible, uncharitable thing he had done he told the parish priest. The priest questioned his parishioners and found out that almost all of them had closed the door on her. He roundly condemned them all and demanded that they mount a search for the poor girl. That was done, of course. But there was no trace of Mary. It was thought that she might have fallen into the lough… the water is deep and it would have been freezing. Nobody could have even begun to look for a body…."
Louise gave a soft cry of empathy and pressed close to The Doctor. He put his arm protectively around her as he listened to the rest of the story.
"Her parents, when they learnt what their neighbours had done, cursed them for their cruelty. The priest did, too. And in those days, the condemnation of a priest could be the undoing of a man. It was a sad, cheerless Christmas for this parish. A cheerless year that followed. Crops failed, pigs died. Cows went dry, all kinds of misfortunes came upon people and they were put down as punishments for what they did to Mary."
"Mmm." The Doctor rolled his eyes. "Coincidence? Paranoia? Self-fulfilling prophecies."
"Easy for us, in our modern world of cynicism to say so," the Deacon replied. "But it was certainly believed in that long, sad year of 1917. Then… on the next Christmas Eve… a miracle of sorts happened. The next morning, one of the parishioners, Domhnal Ó Súilleabháin, told the priest that Mary had come to his door and he had let her in and given her comfort, only to find her gone the next day. Nobody else saw her, not even her parents. Ó Súilleabháin swore that she was still with child, as she had been the year before. Well, of course, that was impossible. The story took hold that it was Mary's ghost that came to his door, giving him a chance to redeem himself. And it is true that Ó Súilleabháin had better luck than most that year. His harvest was the best in the townland and his own wife was delivered of a healthy child. The next Christmas Eve, another man, Ó Briain, answered a knock at the door after midnight and gave shelter to the spirit of Poor Mary, and he had a better year of it afterwards…."
"And it has happened every year since?"
"And, as I said, none would refuse to give her shelter. What would happen to the man who closed his door to that poor Shade…"
"But she wasn't a ghost," Louise insisted. "She was real, Human flesh."
"Yes," the Deacon agreed. "I know… she came to my door three Christmases ago. She is flesh and blood. She is still pregnant."
"Two souls trapped in a time loop," The Doctor said. "Mary and her baby. She didn't die. That's why no body was found. She didn't fall into the lough. She fell into a random temporal bubble, and she has been in it ever since, coming back to Turloughbeg every Christmas in search of the same thing she wanted that first night – food and warmth and shelter for the night."
"Temporal bubble?" The Deacon was surprised by The Doctor's words, but he almost seemed to understand.
"Sir," The Doctor said to him. "Thank you for your time. We'll be going now. Have a happy Christmas and a peaceful and blessed year to come." He shook the Deacon's hand warmly. Louise did, too. Then he took her by the hand and headed out of the church. He got into the driver's seat of the hire car he had been using instead of the TARDIS for the past few days. Louise, after a little struggle, fastened her seatbelt in the passenger side. The Doctor drove back along the winding country road between pristine snow banks and moorlands covered in white. He parked the car beside the lough where, it was believed, Mary Curran had met her fate. There was a small shed there, used in summer for storing fishing tackle for the sports anglers who rented the holiday cottage perched on the rise above the lough. The Doctor opened the shed and then opened the TARDIS door. He stepped inside. Louise followed him.
We'll get to our Christmas dinner in a little while," he promised as he set the time co-ordinates. "We've some presents to open, too. It's almost lunchtime and we haven't even opened a single present!"
"Where are we going?" Louise asked.
"We're not going anywhere," The Doctor answered. "We're staying right where we are. But we're going back in time a hundred years and a bit. It's another cold night. You go and put the kettle on and make a nice pot of tea."
Louise did as he asked. When she returned with the tray the TARDIS had reached its destination. The time rotor was still. On the viewscreen showing the exterior it was a dark, cold, stormy night. She shivered as The Doctor opened the door and an icy blast of wind swept into the console room. She said nothing, though, as he dashed out into the blizzard wearing nothing but his best blue suit as protection against the elements.
When he returned a few minutes later, supporting a frozen, half fainting young woman wrapped in a coat and hood, Louise was only half surprised.
"It's her… Mary…." She said.
"It is," The Doctor answered. "You come and look after her. Give her some tea with plenty of sugar in it. We're going on a short journey now, but the TARDIS being a cantankerous old thing, she'll take as long to do a half mile in a snowstorm as she does crossing a galaxy."
It took twenty minutes. Mary Curran was too delirious with cold to take much notice of her surroundings during those twenty minutes. She hugged the teacup and sipped the warming liquid and thanked Louise and The Doctor for their kindness in taking her in. She told her story about travelling home from Manchester and getting lost in the snow. Louise felt that she was telling it for the first time, even though they heard her say the same words last night. The Doctor had found her on Christmas Eve, 1916, before she had knocked on the first door and been refused shelter.
He brought the TARDIS close to the stable beside a small farm cottage. In the still raging snowstorm it would barely be seen from two paces away. He brought Mary to the front door of her family home and knocked hard. When the door was opened by Mary's father, the girl looked around for the man who had been at her side. He was gone. There was a sudden flurry of snow as if the wind had blown in a different direction briefly and a strange noise that neither she nor her father recognised. The old man ushered his daughter into the warm cottage and secured the door against the elements.
The Doctor and Louise returned to their holiday home and in a very short time they were sitting down to their Christmas dinner. The Doctor had placed one present each from under the tree at their places. After they had eaten their fill and drunk a glass of wine in toast to the joyous day they opened the first of the gifts they had bought each other.
"It's beautiful," Louise said of the gift The Doctor had given to her. "Thank you, mon docteur à moi,"
"It's just what I always wanted," The Doctor replied as he looked at the present his wife had bought him. "Merry Christmas, Louise, my dear."